How Often Should You Rotate Your Tires?

Tire rotations are an important service for your vehicle. It's recommended that you have your tires rotated every 5,000 to 7,500 miles. This is a recommendation based on regular driving habits, however. You'll want to check your vehicle's owner's manual or with a service technician from the Leman's Chevrolet City Llc service center for more specific recommendations. Still wondering when to rotate tires? Learn more with our helpful service guide at Leman's Chevrolet City Llc.
When to Rotate Tires on FWD and RWD Vehicles
Rotating tires on a FWD vehicle and RWD vehicle are pretty different. The main difference between these types of drivetrains is where the power gets sent. For FWD models, the power goes to the front, and with RWD, it's sent to the rear. Tire rotations are important as they help even out tire wear. No matter whether you choose a front-wheel or rear-wheel drive vehicle, here's some information to keep in mind:
For FWD or RWD cars, have a tire rotation performed every 5,000 to 7,500 miles. Refer to your owner's manual for exact figures and more details.
If you want to handle the FWD tire rotation yourself, flip sides when moving the rear tires. For instance, the rear right tire goes on the front left. When moving the front tires to the back, they remain on the same side.
With an RWD car, switch the process above. Flip sides when moving the front tires to the back, but keep the rear tires on the same side when moving them forward.
Off-roading affects how often you need to rotate your tires. Talk with the service experts at Leman's Chevrolet City Llc for details about a maintenance schedule that fits your driving habits.
AWD Tire Rotation Tips
So, how many miles to rotate tires on an AWD model? All-wheel drive vehicles create uneven wear on all tires as it depends on the tire speeds and where the power is needed. It's recommended to have a tire rotation every 3,000 to 5,000 miles.
If you're unsure about the last time you had a tire rotation performed, schedule a service appointment with our service team near Decatur. We can inspect your tires to see if you're in need of a tire rotation.
Why Perform a Tire Rotation?
Tire rotations are important in extending the life of your vehicle's tires. Not only will they help your tires last longer on Normal roads, but they include additional benefits such as:
Improved traction on slippery roads
Less noise on the road
Relieves unnecessary stress on the drivetrain
This service can also help you prepare for worsening weather conditions and future off-roading adventures in Springfield. You'll also want to keep in mind that if you use your vehicle for off-roading, it's a good idea to have tire rotations more often. If you need new tires, contact our service center to schedule an appointment.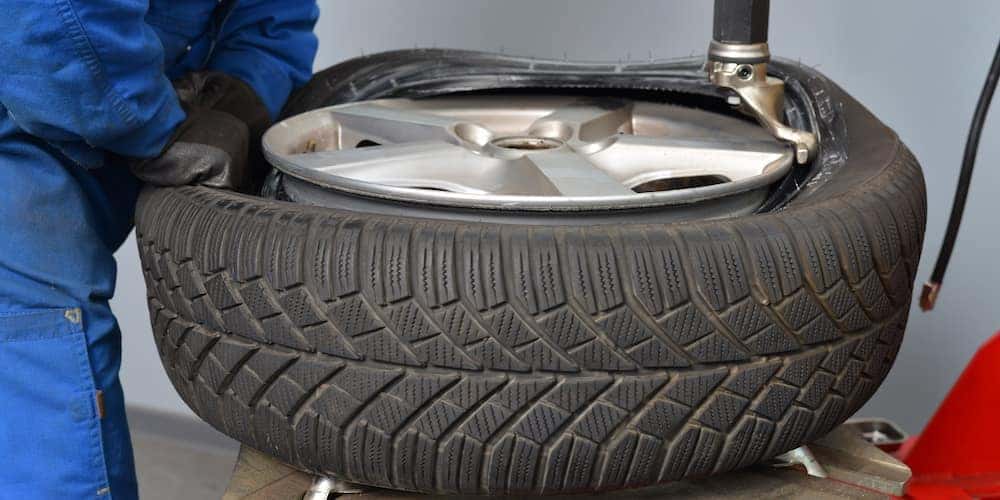 Learn More About Tire Care at Leman's Chevrolet City Llc!
If you'd like to learn additional information about tire care, contact our team! Should you decide to have us check your vehicle, browse our service specials to help you save on your next service appointment.
More From Leman's Chevrolet City Llc
2022 Model Displayed The Chevy Traverse has plenty of space inside, but it also has exceptional power and capability on the outside, and that's evident when you see how much it can tow. How much can the latest Chevy Traverse model tow? The 2023 Chevrolet Traverse towing capacity maxes out at 5,000 pounds when properly…

The Chevy Traverse is a fan-favorite among Normal drivers for its easy-to-handle exterior as well as its exceptionally spacious interior. What does the latest Chevy Traverse bring to the table and improve upon compared to the previous year's model? Take a look inside the Chevy Traverse with Leman's Chevrolet City Llc to see what kinds of features and…

For 2023, the Chevy Trailblazer comes available in several different configurations and drivetrain options from which Normal drivers can choose. You can expect to pay $22,100 for the base-level configuration, and the price varies depending on which trim you choose. Compare the 2023 Chevrolet Trailblazer price and trims with Leman's Chevrolet City Llc to see which model is…