Why is My Car Overheating?


You're stranded on the side of the road somewhere in Springfield with your hood up and steam pouring out from your engine. Your car has overheated. But why is your car overheating? It's easy to assume the worst, but there are a range of reasons your car overheats — and when you let our service team fix them, they tend to be pretty affordable.
What Causes a Car to Overheat?
It takes a qualified mechanic to properly diagnose why your car is overheating, like the experienced technicians at Leman's Chevrolet City, near Decatur. They know what it means when your car is overheating. Still, it's good to understand what causes a car to overheat, so you can make informed choices about repairing your vehicle.
6 Reasons a Car Would Overheat
The radiator is leaking or has a blockage
A faulty water pump
A leaky hose
A hose with a blockage
A seal or gasket that is cracked
The coolant is not mixed properly with water
What You Should Do When Your Car Overheats
Figuring out why your car is overheating is not the first thing you should do when you notice the needle hit "H." This is what you should do when your car overheats:
Turn off the A/C, and turn on the heat
Pull over right away to a safe spot
Turn the car off
Wait until the engine has cooled before opening the hood
Briefly touch the radiator cap. If it is still warm DO NOT open it!
Get your car towed someplace where it can be repaired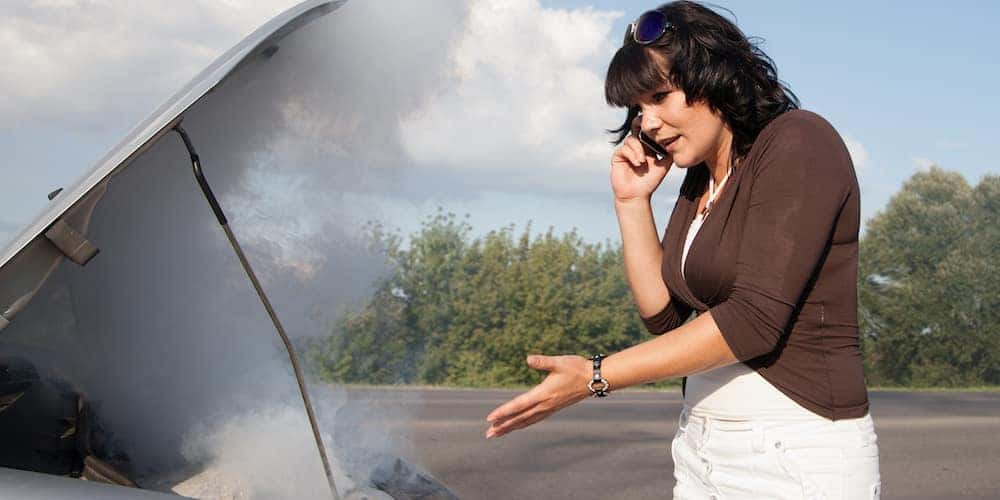 Schedule Service at Leman's Chevrolet City
Now that you've learned what it means when your car overheats, take a look at our other service tips and tricks. Of course, there's no need to try to figure out why your car is overheating on your own. Schedule service at Leman's Chevrolet City today. Don't forget to check out our service specials. We're conveniently located near Normal, so drop by today with any questions or to compare our models like the Chevy Colorado vs. Silverado!
More From Leman's Chevrolet City
Looking for your next pickup to give you power on the streets of Normal? Take a look at the new 2021 Chevy Silverado 1500. With a variety of configurations from the 2021 Chevrolet Silverado 1500 LTZ to the 1500 High Country, you are sure to find the right combination of accessibility and connectivity that…

With the 2021 Chevy Traverse, drivers know that they can take on the heavy tasks that pop up during the work week and pull the precious cargo for their weekend adventures. The Chevy Traverse towing capacity is able to tow a maximum of 5,000 pounds with the help of powerful engine performance. When adding in…

The new 2021 Chevrolet Silverado 1500 boasts a maximum towing capacity of 13,300 pounds, plus a maximum payload (hauling capacity) of up to 2,280 pounds. What's more, this Chevy light-duty truck offers a hydroformed, boxed high-strength steel frame to provide structural rigidity, plus a series of towing features that make the task more appealing….