How to Jump Start a Car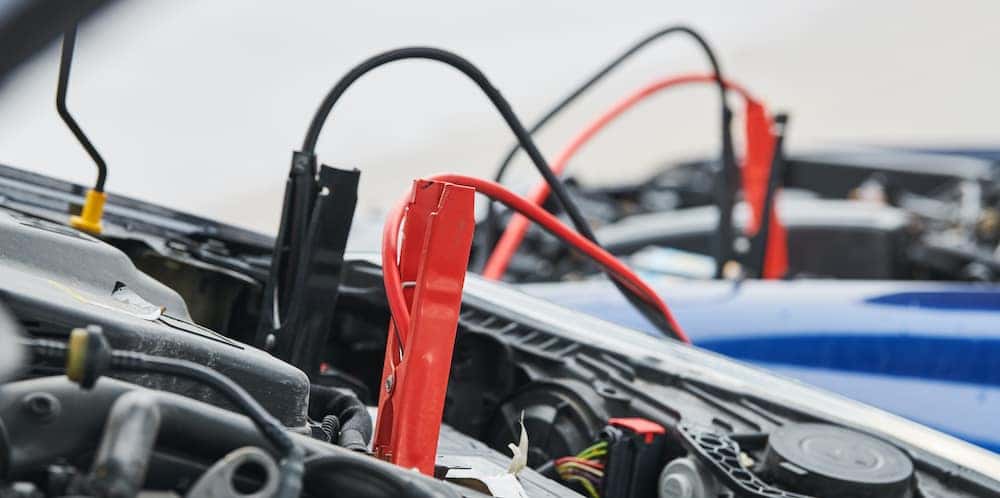 Nothing ruins your morning like a dead car battery. But don't stress: you can learn how to jump start your car to be prepared for the unexpected. Follow these steps to get you back on the Decatur streets in no time — and if you need a new battery, our parts department is just a call away.
The Proper Way to Jump Start a Car
Before you begin, you'll need jumper cables and another vehicle with a working battery. If these are unavailable, auto companies such as AAA provide jump start car services. Once you have what you need, you can get your engine running quickly and easily:
Pull the other vehicle with the good battery toward you car, facing yours. Turn the vehicle off, and ensure both cars have their parking brakes engaged.
Pop open the hoods and locate the batteries. It's possible you may need to remove a plastic hood to access the battery terminal.
Find the positive and negative terminals, ensuring they are clean and corrosion-free.
Connect the red clamp to the positive post on the dead battery, and the other red clamp to the positive terminal of the battery with the charge.
Connect the black clamp to the negative post on the good battery.
For the final clamp, connect it to an unpainted metal surface on the car's frame.
Now that everything is securely connected, start the good vehicle's engine, followed by yours. This should provide the jolt of power needed to get started.
Be sure to keep your vehicle running for a while after getting the jump. This will allow the battery to recharge after it's been drained.
More Battery Tips and Tricks
If this method doesn't jump your car, it's possible you may need a battery replacement or other additional service. Look for the following signs:
Hearing a clicking sound when trying to start could indicate a malfunctioning starter. This is an easy service providing by your local Chevrolet dealership.
If your engine won't turn over even when the electrical system is on, there could be several issues at play. Schedule service at Sam Leman Chevrolet Bloomington to diagnose whether it's the battery, starter, or even ignition switch that's the problem.
Turn to Sam Leman Chevrolet Bloomington for Service
If you need a new battery, want to learn about checking your oil, find out the difference between gas and diesel trucks, want to learn how to update Chevy MyLink software, good mileage on a used car, or need any other kind of basic maintenance, visit the certified mechanics who help Decatur drivers troubleshoot their automotive issues everyday. We go the extra mile to ensure all our Morton customers drive with confidence. Contact us today to get started, browse our used Malibu inventory, and more!
More From Sam Leman Chevrolet Bloomington
Searching for a spacious new compact SUV for sale in Bloomington or Normal that won't break the bank? Check out the 2020 Chevrolet Equinox! The new Equinox SUV offers a ton of space for you and all your passengers to stretch out, providing seating for up to 5 passengers and a maximum of 63.9 cubic…

On-the-hunt for a heavy-duty truck that has the chops to take on almost any towing task you throw its way on-the-job or on your weekend adventures in Normal? The new 2020 Chevrolet Silverado 2500HD is a popular pickup among Decatur drivers, thanks to its generous towing and hauling abilities. Just what exactly is a properly-equipped…

If you're a Bloomington driver in the market for a new mid-size sedan to add style, efficiency, and function to your daily drives— the 2020 Chevy Malibu is a formidable option. In this guide, we'll detail the Chevy Malibu interior features that make this iconic model an excellent choice for your next vehicle. No matter…